JOHN BERGER (Londres 1926 / Antony 2017)
Meeting with John Berger along our way has been one of the most fertile gifts of our lives. Reading him, listening to him, talking to him over meals and in the studio … observing him observing before he launched into a flow of encouraging and provocative words, always gave us food for thought, love and laughter.
We began our relationship with John on the piece Atrás los ojos (Behind The Eyes, 2002), through letters and texts he sent us by post. It was not until 2004 that we met him for the first time. From that moment onwards we worked with him on several pieces: Testimoni de llops (Testament of Wolves), He visto caballos (I've Seen Horses) and Todos los nombres (All the Names).
All through those years, until he left us in January 2017, we worked together on a series of projects, recording his voice for audiovisual pieces, using his texts and voice for the immersive exhibition Refugi (Refuge) and for the book Swimming Horses.
John's legacy is immense for anyone who has read him, listened to him or known him. And we continue to work with him, with his voice and his words, that often appear in unexpected places. Such as in the piece On Goldberg Variations/Variations, where he gives us his voice accompanying the music of J.S. Bach.
FAREWELL LETTER BY PEP RAMIS AND MARÍA MUÑOZ
Dear John,
You'd be surprised to hear how the last two days of our lives have been. Only hours ago we wrote you a new year message, as we always do, by phone. You did not reply. We arrived home from the mountains in the afternoon of the first of January and found the donkey waiting for us. She had given birth to a lovely foal that, sadly, had not survived. Even so, the beauty of this creature was extraordinary. You could sense that finest of lines between life and death. A life of only a few hours.
Today news reached us of your passing. Ninety years of passionate, generous life, dedicated to giving a voice to those who do not have one, shedding light on little things, questioning as you looked, listening.
You drew closer so as to listen. You sought contact so as to understand, as though attempting fully to grasp the other person. And your hands were forever clutching at forearms, embracing, as you questioned with those wild cat's eyes and that complicit smile. There were so many shared moments with a glass of wine, around a desk where you would read us your latest, as yet unfinished writings, where ideas arose around other ideas, words triggered images, images flowed into words.
Yours was always a young soul, a generational bridge between now and what went before. You spoke of the dead and the living as communities that needed and complemented each other. You always kept them in mind. Now you're part of that shore of humanity, John. You're on the other side. Perhaps you're still on your way, we don't know how far it is to the other bank. Here, on this side, you leave us bereft of your warm, intimate voice that cut delicately into the consciousness like a good knife into bread. A voice that has helped us to ask ourselves about this difficult, wonderful place that is the world. You lived through what has surely been the most turbulent century in history, seeing how the contradiction in human nature manifested itself, how people are capable of creating fantastic inventions yet never cease to be at war. You always stood beside those fighting with determination for their cause, whether in Palestine, Chiapas, with the Black Panthers, with peasants. You always made room for women when you spoke, seeing things through your mother's eyes.
We shall carry on reading you, loving you, thinking that it has been wonderful to know you and yours. And we shall carry on wondering: what would John think, how would he do it?
We wish you a good journey to the other shore. You may not be able to go by motorbike, as you would like, but you may meet a beautiful donkey that will surely want to know how to reach the other side. We shall follow in a while. Meanwhile, we'll imagine you smiling and embracing all those you meet on your way.
Farewell, John.
2nd January, 2017
Pep Ramis-María Muñoz/MAL PELO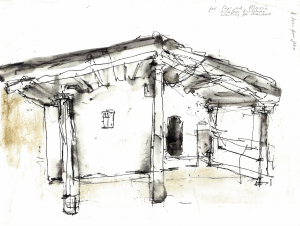 MANUSCRIPTS KEPT AT MAS ESPOLLA